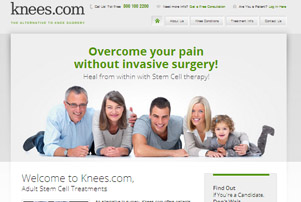 Overcome your pain without invasive surgery!
More about Knees.com
An alternative to surgery, Knees.com wants patients to have a chance to be free from knee pain without an invasive procedure. Using your body's own natural cells to help repair the damaged tissues of the knee. We're also interested in treatments for ankles, hands, shoulders and more. Ideally there will be no long periods of downtime, and no painful recovery!
Important Facts
Personalized evaluation is at no-cost.
Concierge service to assist you in your journey.
Promoting traditional surgical solutions as well as alternatives to knee surgery. Heal from within utilizing the latest in Stem Cell Therapy.